The importance of the fasciae—the bands of the conjunctive tissue that create body tension—is being discovered by many movement arts in the last couple of years. Mouliko Halén explained in his seminar at Aikido Oberursel how they can be used in the daily practice of the Japanese martial art. The teacher, who is also a part-time shiatsu therapist, showed a number of exercises that activates this inner core tension. Visitors from all over Germany came to Oberursel to attend his classes.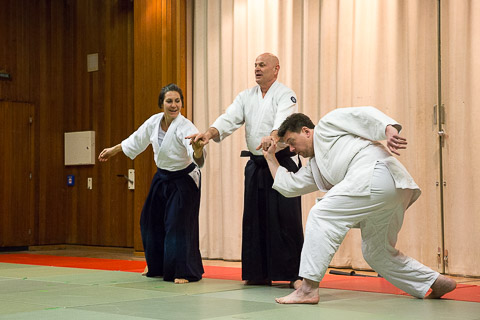 Guiding with body tensionMouliko showed various ways to use the long-stranded fascia bands—which connect across our bodies from fingertips to toes—for healthy and effective movement patterns. He demonstrated how they can be used in aikido techniques to gain more security and presence. Another focus of the seminar lay on the 13 kata, a pre-defined partner exercise for defending oneself against a sword with the help of a wooden staff.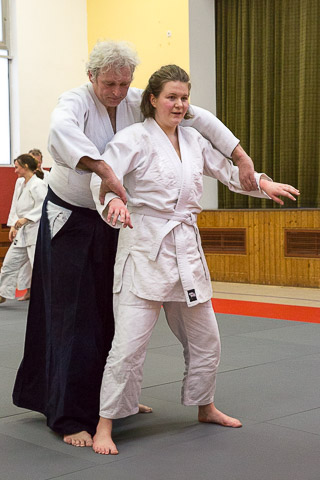 Working from the centerMouliko has been teaching aikido professionally for a few decades, and he shows limitless enthusiasm for the subject. He is equally interested in the inner and outer forms of the techniques, in the flow and in the structure. Having studied a variety of martial arts, his heart is with aikido for which he was awarded the 7th dan from the Aikikai headquarters in Tokyo. It is in his nature to keep exploring new paths, crossing boundaries between aikido and other arts.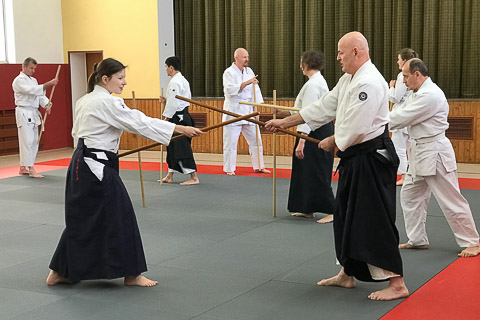 Practising the 13 kata"I am really glad that Mouliko Halén for the fourth time accepted our invitation to teach at Oberursel", says Klaus Messlinger, head of the dojo. "His interest in the significance of fasciae for the inner forms has developed over the past years, as have his findings on how these principles can be applied in standard aikido techniques. This combination makes him such an interesting teacher." Mouliko's next seminar in Oberursel is planned for spring 2019.
If this made you curious about aikido: regular classes are Tuesdays from 19:00–21:00 at the old gym of Grundschule Stierstadt, Thursdays from 20:00–22:00 and Sundays from 18:00–20:30 at the TV Weisskirchen club house. For a free trial class, come in comfortable sports gear; we practise barefoot. Find out more in the FAQ section.
Please visit the image gallery for impressions of the seminar.