An exceptionally talented young aikido teacher came to our dojo last weekend: Ludvig Jönson from Stockholm taught a weekend seminar with his artistic signature style. The 26-year old Swede presented a variety of highly dynamic techniques which required intricate falling skills. He showed how to master these from unusual angles, and how to come down softly and unharmed, while having a lot of fun with those explorations. Visitors from all over Germany attended the seminar to push their limits under Jönson's supervision.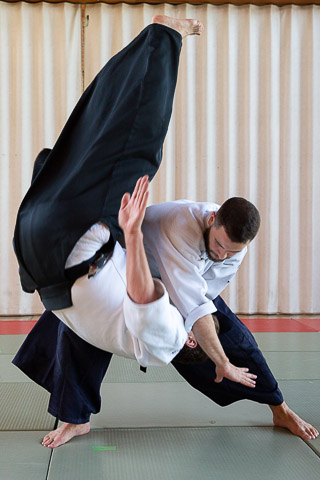 Direct entry throw No matter whether the attacker swipes you off your legs, throws you over the hip, or simply uses a wrist lock in an attempt to immobilise you: there is always a way out of this inconvenient situation with the help of an elegant roll or soft fall. The solutions presented by Ludvig 'Ludde' Jönson looked simple and graceful, but required many years of training and a good measure of willpower and daring. The seminar participants practised with attention and sobriety, but still had a lot of fun with the humorous and playful instructor.

High fall Jönson has been practising for about 20 years, and from very early on he was noted as a talent beyond the borders of the Swedish capital, as an enthusiastic researcher for exceptional and dynamic solutions for how to respond to a serious attack. Even though he has a preference for artistic forms, the techniques he presented at our dojo were soft and easy on the body, and he was making sure that the participants enjoyed themselves and met the challenges with a smile on their face.

Preparing for a hip throw "I am very glad that Ludvig Jönson accepted our invitation", says Klaus Meßlinger, head of the dojo. "He stands for many of the best qualities in aikido: precision, sharpness and dynamic execution, and at the same time showing a remarkable calmness, a relaxed posture even during the stormiest of attacks, always keeping a smile on this face. This left quite some impression with the participants." Meßlinger is looking forward to inviting the young Swede again in the future.
If this made you curious about aikido: regular classes are Tuesdays from 19:00–21:00 at the old gym of Grundschule Stierstadt, Thursdays from 20:00–22:00 and Sundays from 18:00–20:30 at the TV Weisskirchen club house. For a free trial class, come in comfortable sports gear; we practise barefoot. Find out more in the FAQ section.
Please visit the image gallery for impressions of the seminar..