Last Saturday, Max Rößner taught a Movement Practice workshop at our dojo. This contemporary discipline is a playful research of how to enhance movement options, and it can be used as a basis for all kinds of sports and more generally for a healthy lifestyle. The focus of the workshop was on "balance and coordination": numerous exercises and games provided tricky but entertaining challenges for the participants. People from all over Germany attended the event, which was a sequel to last year's successful premiere.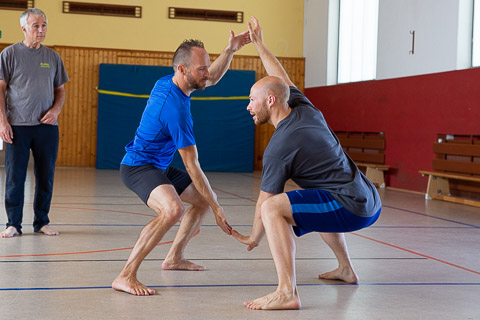 Coordination exercise with partner "It shouldn't be too difficult to stand on one leg", thought many of the participants at the beginning of the workshop, but only a few minutes later they started sweating and fighting for their balance, when Max Rößner added a number of seemingly simple tasks that had to be carried out simultaneously. They also learned that "sitting down and getting up effortlessly" can be a lot more complicated than it sounds. Max further elaborated the workshop's topic through a number of partner exercises and games. He explained what Movement Practice has to do with health and why it is an excellent training approach supporting all kinds of sports.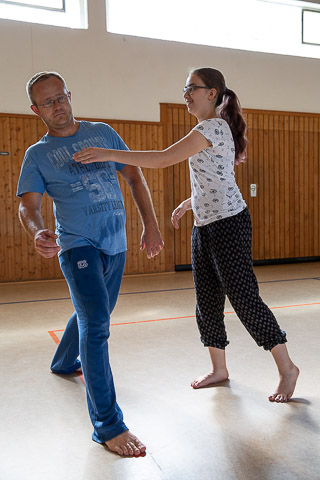 Flexibility game Max Roessner has over 15 years of experience in aikido, capoeira and movement practice based on the methods developed by Ido Portal and Joseph Bartz. From this combination new insights, exercises and movement forms emerge which he presented at the workshop, also adding some ideas on training philosophy. Max's goal for this workshop was to help the participants discover and enhance their individual movement options. At the end of the day, he was applauded for his choices: all exercises were both challenging and fun.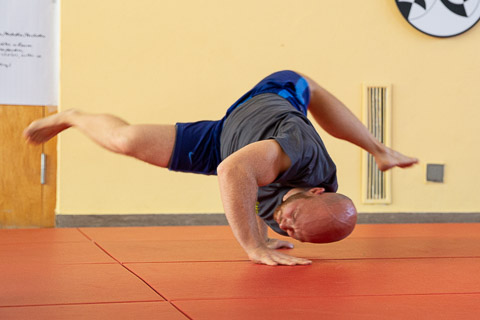 'Ways of sitting down' "I am very happy that Max accepted our invitation to come back to teach at our dojo", says Klaus Meßlinger, head instructor of Aikido Oberursel. "The approach of Movement Practice and Max's way of teaching opened my eyes to the fact that many of our movement limits exist in our heads only, and that it is much easier to push our boundaries than we would usually think." Max Rößner agreed to return to Oberursel in 2019.
Aikido, too, uses a lot of the movement ideas presented at the workshop. For a free trial class, come in comfortable sports gear; we practise barefoot. Find out more in the FAQ section.
Please visit the image gallery for impressions of the workshop.