In martial arts, balance and center create stability – but they are also a precondition for fast and dynamic responses. How to work from the axis was the central topic of Roberto Martucci's seminar at the Aikido Dojo Oberursel last weekend. The Italian teacher has an international reputation for combining soft and fluent movements with clear and sharp techniques which will nevertheless put the attacker to the ground unharmed. Participants from all over Europe came to Oberursel to practise under Martucci's guidance.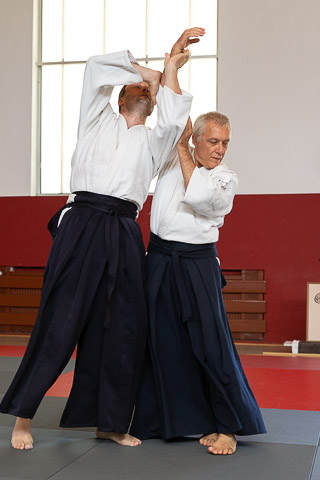 Lead attacker off balance The teacher from Rome put the focus of the seminar on working from the center, pointing out the importance of keeping an upright position. In order to illustrate this he presented exercises where the participants used the jo, the Japanese wooden staff. It was originally a peasant weapon, but in Aikido it is used to practise turning around the axis and keeping the right distance. From this, the Italian teacher develop a number of demanding combinations which led to throwing or pinning the attacker.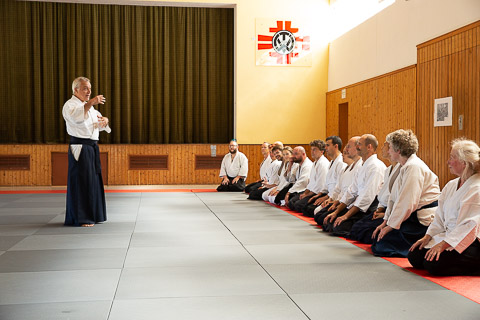 Attentive audience Roberto Martucci, who holds the 6th dan in Aikido, is the founder and chief instructor of the well-renowned Kashin dojo in Rome. He started practising the martial art in 1975 and has since worked to proliferate Aikido with conviction and passion. Roberto is a dedicated student of Endo Seishiro shihan, and for many years practised intensively under Christian Tissier shihan. Roberto's Aikido is characterised by creativity and dynamic movements which he likes to combine in free application.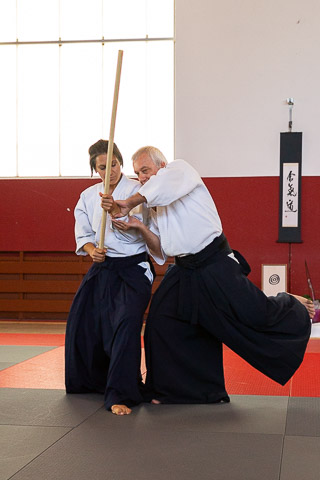 Exercise with staff "I am very happy that Roberto returned to Oberursel for the third time to teach a weekend seminar", says Klaus Messlinger, head of Aikido Oberursel. "He teaches with a lot of humour and a passion that is contagious. We have been good friends for many years now, and we exchange regularly – which is a great benefit to our dojo."
If this made you curious about aikido: regular classes are Mondays from 18:30–20:30 at the Landgraf Ludwig school gym in Bad Homburg, Thursdays from 20:00–22:00 and Sundays from 18:00–20:30 at the TV Weisskirchen club house in Oberursel. For a free trial class come in comfortable sports gear; we practise barefoot. Find out more in the FAQ section.
Please visit the image gallery for impressions from the seminar.