The intensive preparation paid off: At the weekend, Fenja and Kendra Bender passed the 5th Kyu examination. The jury consisted of dojo head Klaus Meßlinger and Josef Chovanec. The examiners were extremely satisfied with the performance of the two candidates.
In the non-violent Japanese martial art there are no competitions, so belt examinations are the most important events where the acquired skills can be demonstrated. There are six student grades up to black belt, from 6th Kyu (first level) to 1st Kyu (last exam before black belt).
The examinees have to master versatile tasks in the test: fixed sequences of movements showing body control, techniques with a partner performed on the floor and in standing position, falling and rolling in different directions.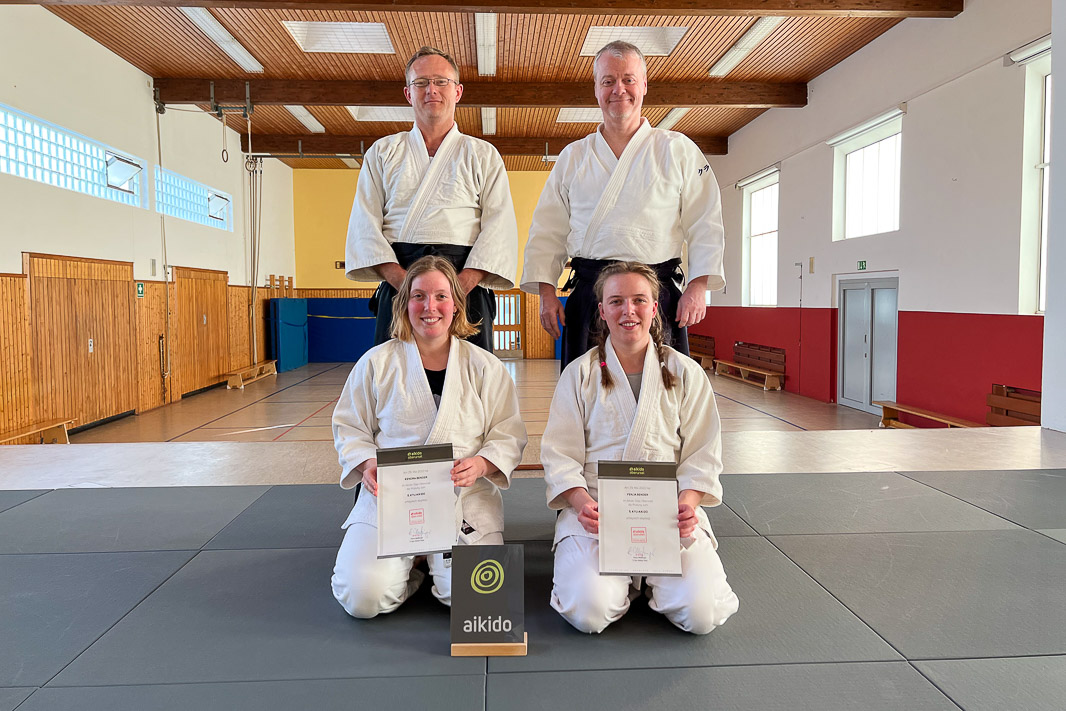 Back: examiners Josef Chovanec and Klaus Meßlinger; front: Kendra and Fenja Bender (picture: Benjamin Raabe)
"We are happy that once again two women have taken up the challenge," says dojo head Klaus Meßlinger. "Regardless of gender, we apply the same standards in the exams. In this case, the female candidates were better than many a male examinee in the past."
If this made you curious about Aikido: regular classes are Mondays from 18:30–20:30 at the Landgraf Ludwig school gym in Bad Homburg, Thursdays from 20:00–22:00 and Sundays from 18:00–20:30 at the TV Weisskirchen club house in Oberursel. For a free trial class come in comfortable sports gear; we practise barefoot. Find out more in the FAQ section.