Seminar with Alvaro Campo
Details

Created: Monday, 12 November 2018 12:00
Advanced techniques and improvisations were at the core of the seminar that Alvaro Campo taught at Aikido Oberursel last weekend: how to sense the intention of the opponent and how to neutralise the attack through an alert connection and spot-on timing. People came from all over Germany and several European countries to practise their skills under the supervision of the Stockholm-based teacher. Notable fact: the majority of the 28 participants were women.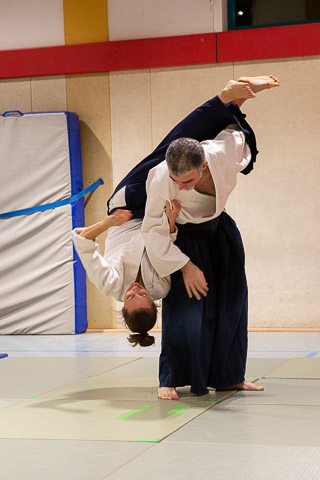 Hip throw The non-violent martial art Aikido is based on the principle of the "unification of forces", i.e. the attacker is not blocked or incapacitated by a counter attack but guided through a subtle movement that releases the force from the attack into thin air. In most cases, this leads to a pin or a roll or even a spectacular-looking high fall. It requires years of practice to develop the skills for this art, but even a beginner can learn the basic principles in a relatively short time. In the four classes of the seminar, the Swedish teacher showed how those principles can be applied on every level, giving a large number of application examples.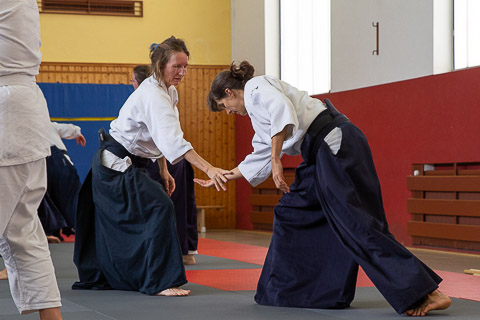 Alert connection Alvaro Campo teaches at one of the biggest dojos in Stockholm and is well-known across Europe. He holds a 4th dan of the international Aikikai federation. 20 years ago he started practising in New York, and has since followed world-renowned teachers from Japan and Europe. Alvaro's focus is on the ambiguity of technique and improvisation and how the two might possibly come together. By practising kata forms and free form alongside he explores the differences between the two and finds ways to incorporate one into the other.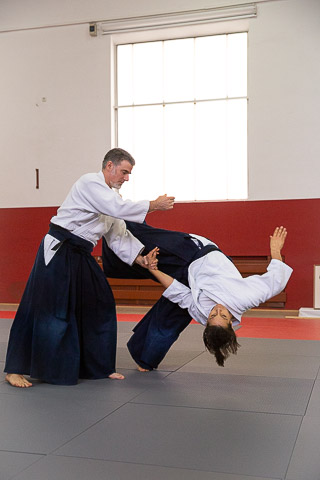 High fall from a wrist lock "We are very happy that Alvaro Campo accepted our invitation to teach his first seminar in the state of Hesse", says Klaus Messlinger, head instructor of Aikido Dojo Oberursel. "In the seminar he showed us how important it is to develop a good sense for the dynamics of the attack, and how one can 'feel' the attacker's mind. The participants appreciated his relaxed and humourous way of teaching and the easy-to-grasp explanations – even if the techniques themselves were not so easy to master."
If this made you curious about aikido: regular classes are Mondays from 18:30–20:30 at the Landgraf Ludwig school gym in Bad Homburg, Thursdays from 20:00–22:00 and Sundays from 18:00–20:30 at the TV Weisskirchen club house in Oberursel. For a free trial class come in comfortable sports gear; we practise barefoot. Find out more in the FAQ section.
Please visit the image gallery for impressions from the seminar.